Setup and Connection Guide for Tradovate
>>>>>>>>READ ME FIRST<<<<<<<<
Rithmic Accounts CAN NOT be "converted" to Tradovate accounts - DO NOT send in Helpdesk Tickets asking for this to be done. You may trade both Rithmic and Tradovate accounts, but they can not be converted from one to the other. That goes for evaluation and PA accounts. You CAN NOT pass an evaluation using a Rithmic account and then chose to trade the resulting PA account with Tradovate, or vice-versa.
THERE WILL BE >>>> NO REFUNDS OR CREDITS <<<< GIVEN IF YOU RESET THE WRONG TRADOVATE ACCOUNT OR RESET THE SAME TRADOVATE ACCOUNT MULTIPLE TIMES BY "ACCIDENT" (OR ON PURPOSE). MAKE SURE!!!! YOU ARE RESETTING THE ACCOUNT YOU INTEND TO RESET. IF YOU RESET THE WRONG ACCOUNT, IT'S RESET. IT CAN'T BE UNDONE OR CREDITED. THIS IS NOT US BEING "MEAN" OR TRYING TO TAKE ADVANTAGE OF YOU, THIS IS US TELLING YOU TO P A Y A T T E N T I O N TO WHAT ACCOUNT YOU ARE RESETTING. BILLING WORKS DIFFERNTLY BETWEEN TRADOVATE AND RITHMIC.
>>>>>>>>READ ME FIRST<<<<<<<<
AFTER RECIEVING YOUR TRADOVATE LOGIN CREDENTIALS (PART 2 - STEP 1 BELOW) MAKE SURE YOU LOGIN IN HERE: https://trader.tradovate.com/welcome (Desktop browser NOT the app) AND

SIGN THE NON-PROFESSIONAL

AND OTHER DOCUMENTS BEFORE CONTINUING OR TRYING TO CONNECT TO ANYTHING. YOU WILL HAVE DELAYED DATA IF YOU DO NOT COMPLETE THIS STEP FIRST AND WILL ALSO BE CHARGED OVER $300 DOLLARS/MONTH FOR DATA.
Note: It will take between 10 minutes minimum to 90 minutes maximum for the data to be activated AFTER you sign the data agreements depending on how many users are signing up at the same time.
This only applies to the first time you signup. We are working on a method to expedite this process but it will take a couple weeks to develop. In the meantime there is a wait time. Thank you for your patience with the activation process during this launch.
Please do not submit a help desk ticket for data not being live until after 90 minutes of you signing the data agreements has expired.
1. Go to ApexTraderFunding.com scroll down the page until you see "Select Your Tradovate Plan", then click on the "Start Now" button to purchase the plan: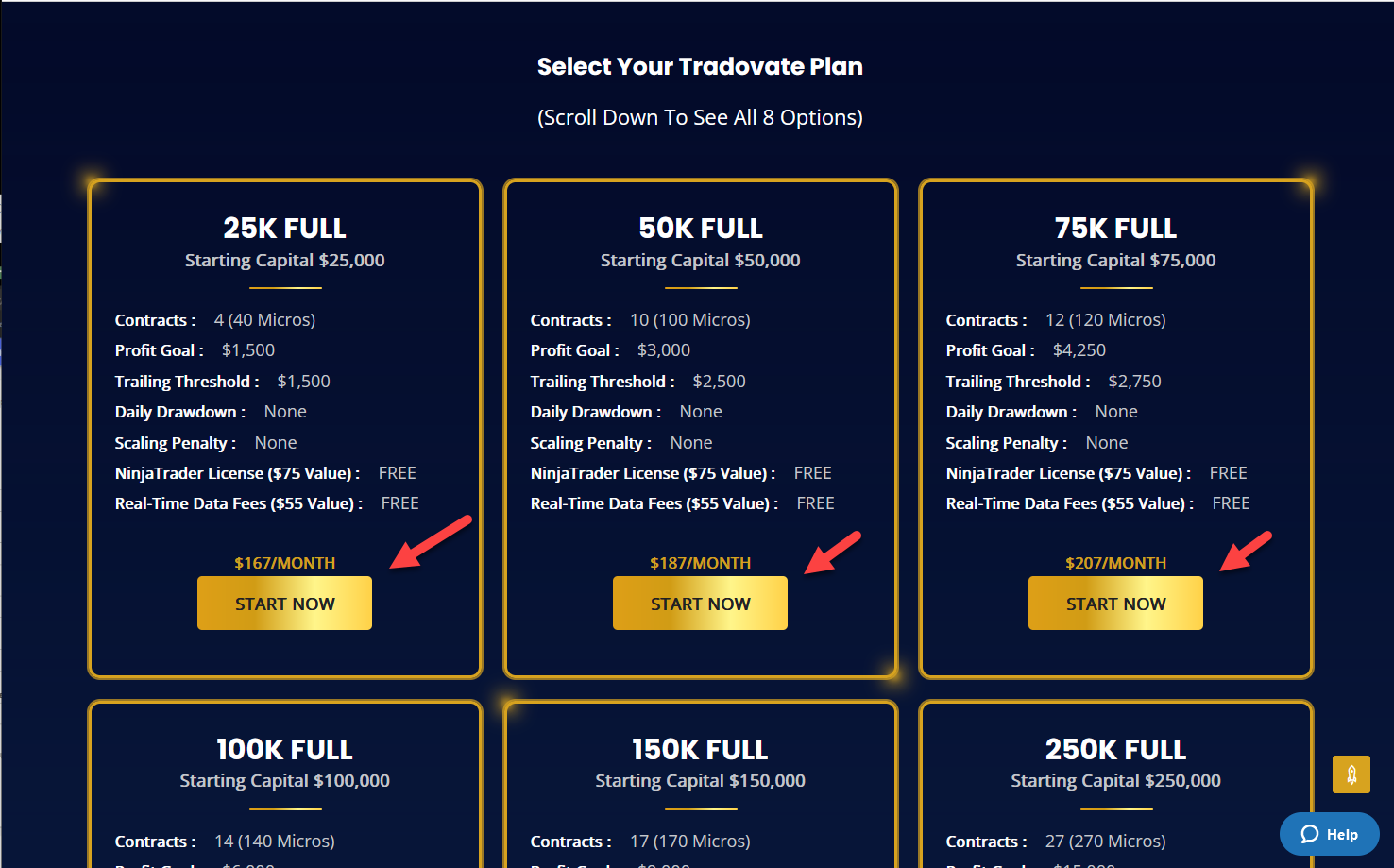 2. Once you have selected your plan, you will be taken to the account creation/checkout screen. If this is the first time you have had an account with Apex Trader Funding, fill out the payment information, your new account credentials, address, any coupon code that you may have and read/accept and FULLY UNDERSTAND the policies, renewal agreement, disclaimers and disclosures.
Verify you have select the account you intended too: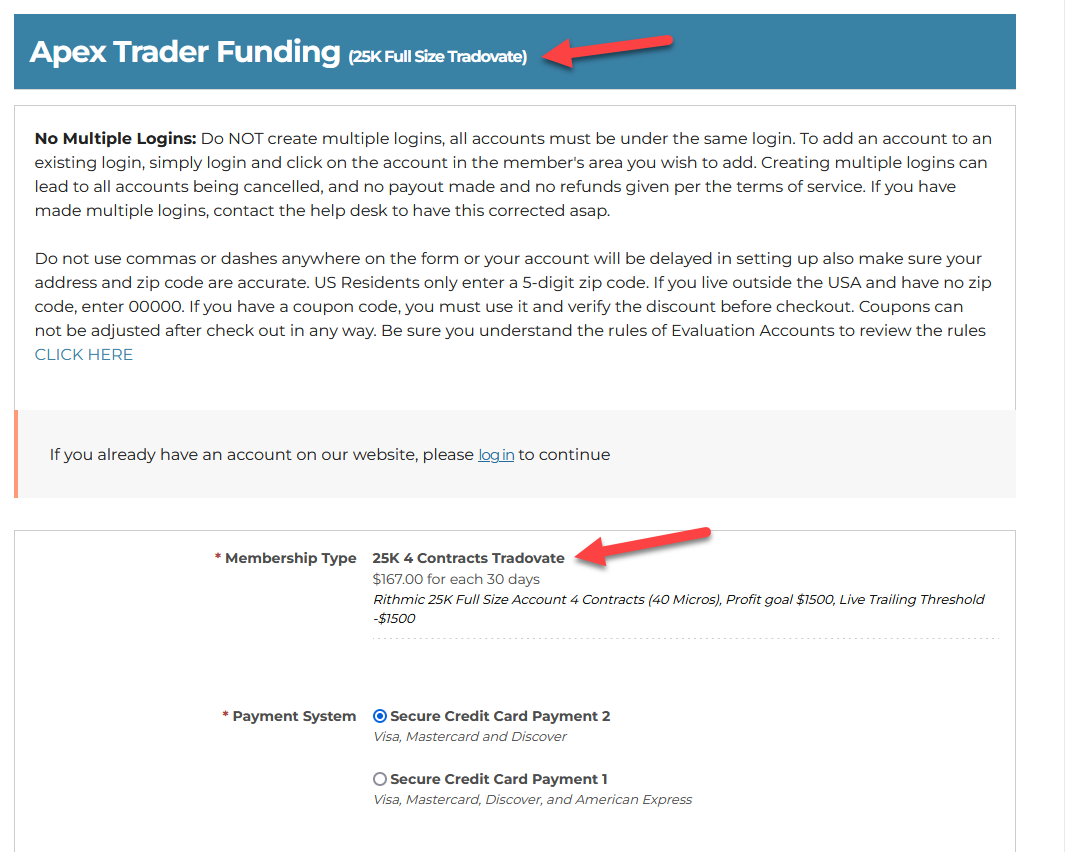 3. If you are an existing Apex Trader Funding customer, login to your account before continuing with checkout:
4. Once you have finished filling out and submitting your order form you will receive an email with either your new account login information and/or your receipt of the purchase.
5. Login to your Apex Trader Funding account with your username and password :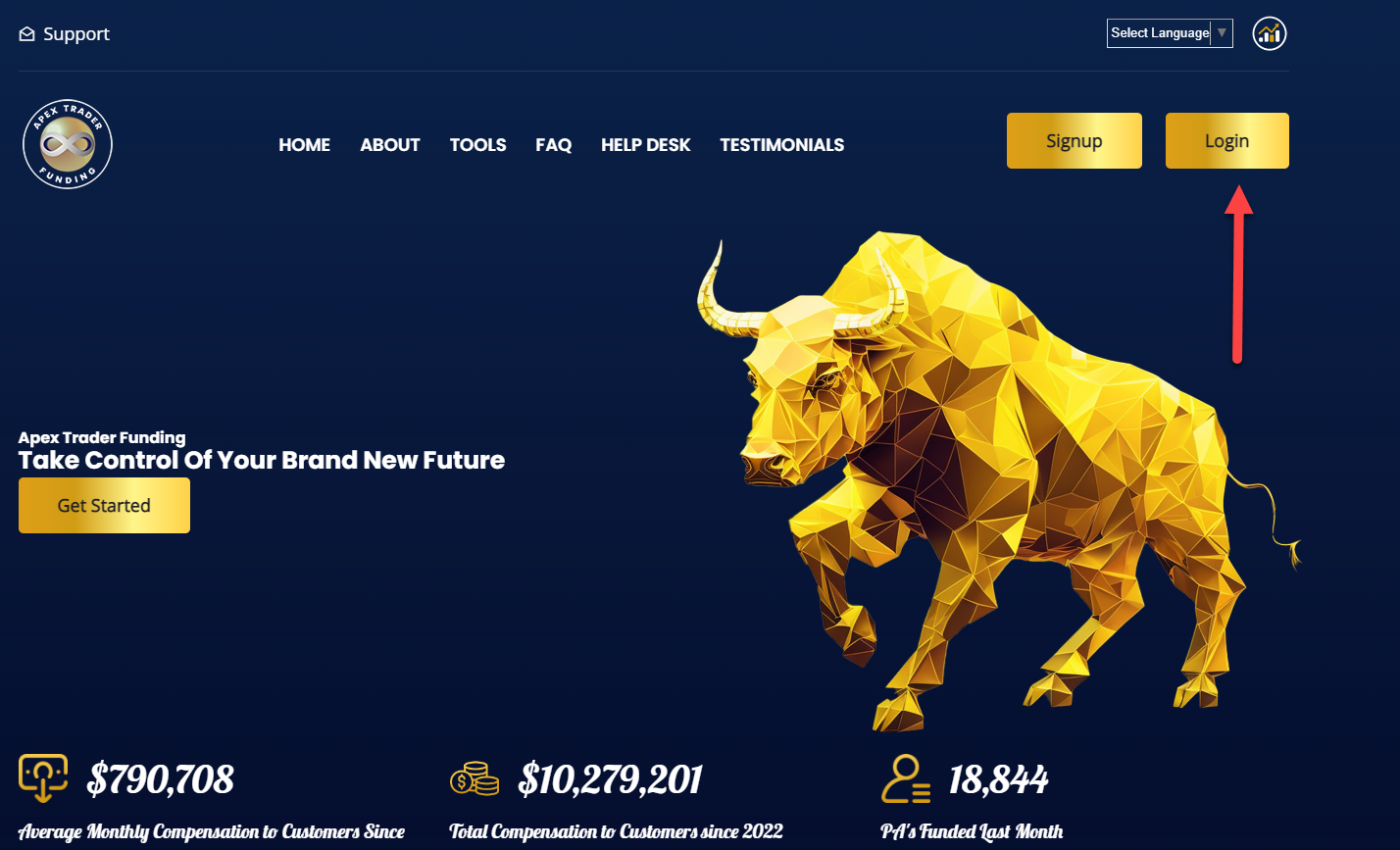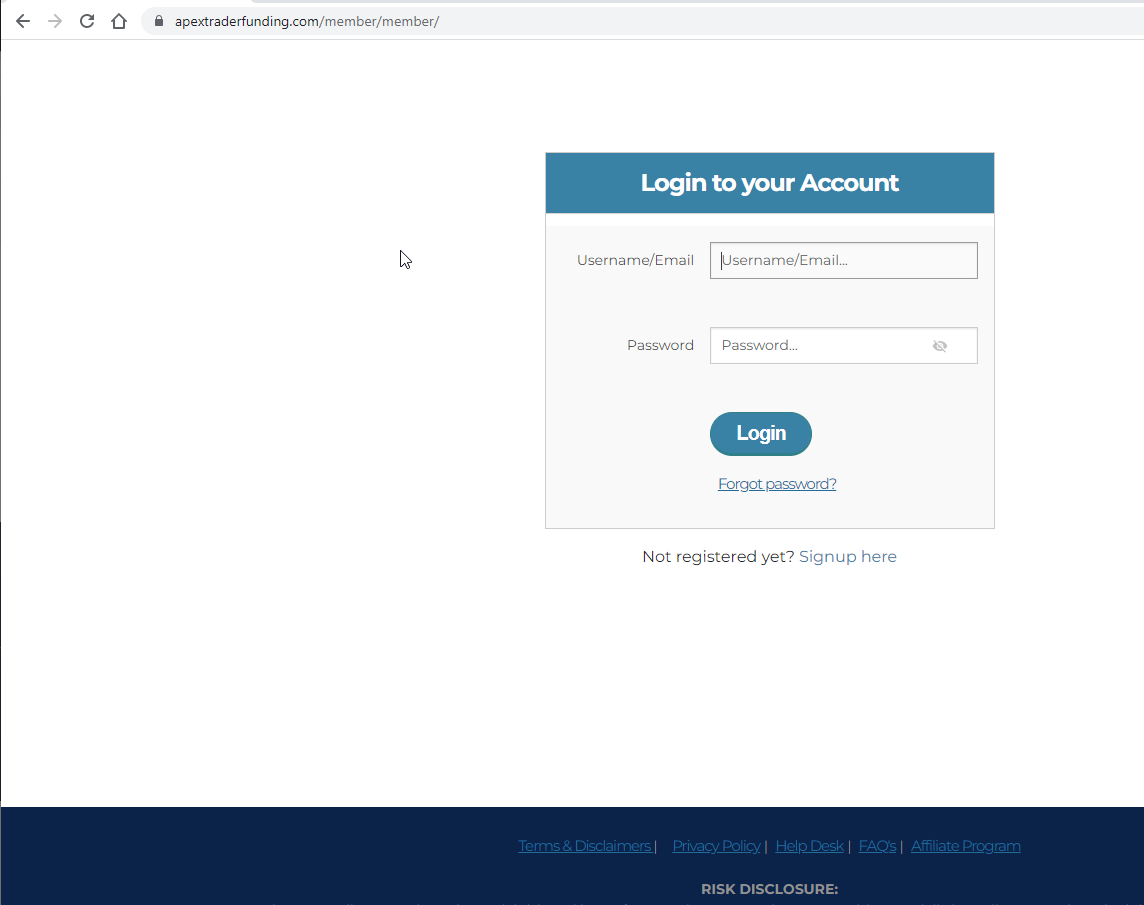 6. Once logged in, you'll see the account you purchased. It will look similar to this:

7. On the right hand side of the trader dashboard you will see a section labeled "Tradovate Account". This is your username and password you will use later to login to Tradovate and setup your NinjaTrader Connection to Tradovate.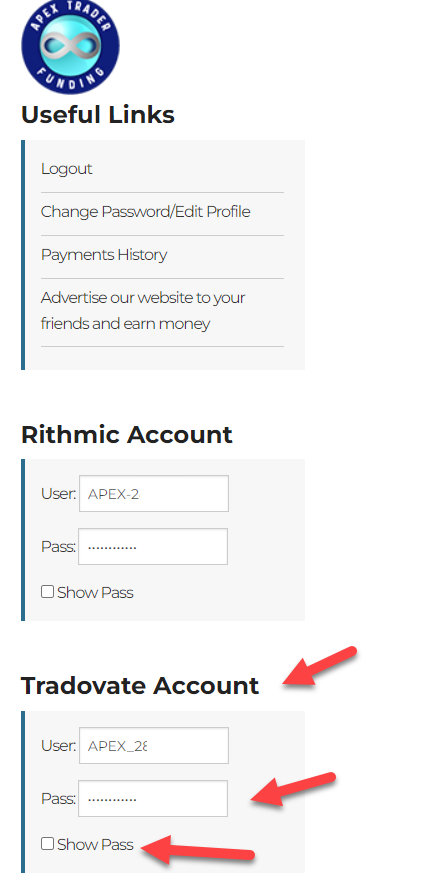 Part 2 - Login to Tradovate
1. Once you have purchased your account on the Apex Trader Funding website (you may have multiple Tradovate accounts) go to this URL: https://tradovate.com and click "Login". You should then see this page: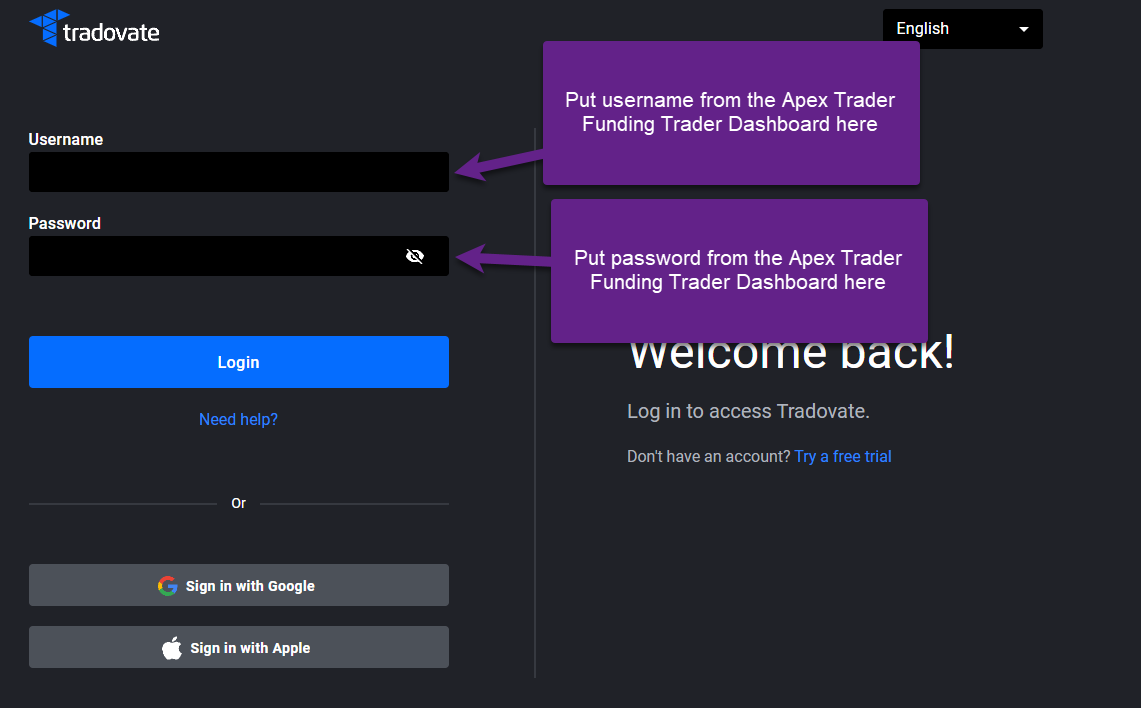 Copy and paste your username from the Apex Trader Funding Trader Dashboard Tradovate section as shown in Part 1 of this article., then copy and paste the Tradovate password from the same section into the Password field on the Tradovate page. The click on Login.
NOTE: If you receive an "Invalid Username or Password" error message when trying to login MAKE SURE YOU ARE COPYING THE TRADOVATE Username and Password and NOT THE RITHMIC USERNAME AND PASSWORD. They are different accounts and credentials and are NOT interchangeable!
Fill out your information and sign the document
Select NON PROFESSIONAL
2. Select Simulation for the Trading Mode: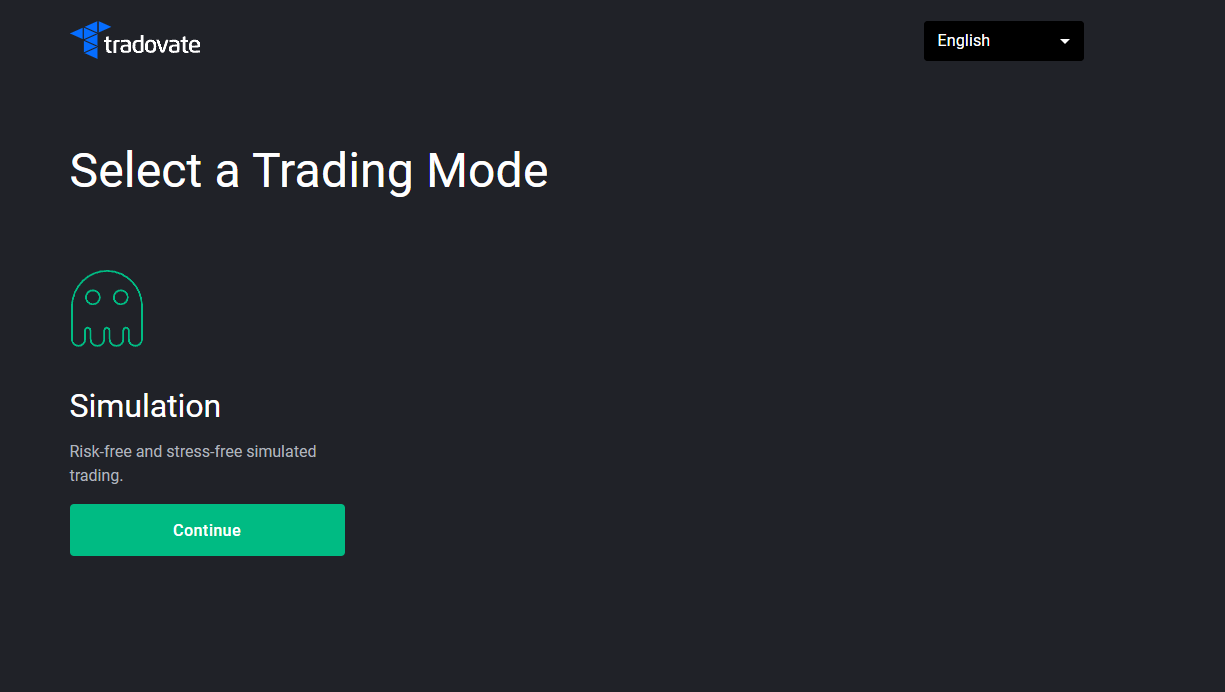 3. Once your click on the continue button, you will be taken to the default Tradovate chart and indicator setup which you will need to customize on your own to your liking.
When you are done trading or want to logout of Tradovate, click on the down arrow next to your account at the top of the screen then look at the bottom of the list and there will be a logout menu item there. Click it to logout: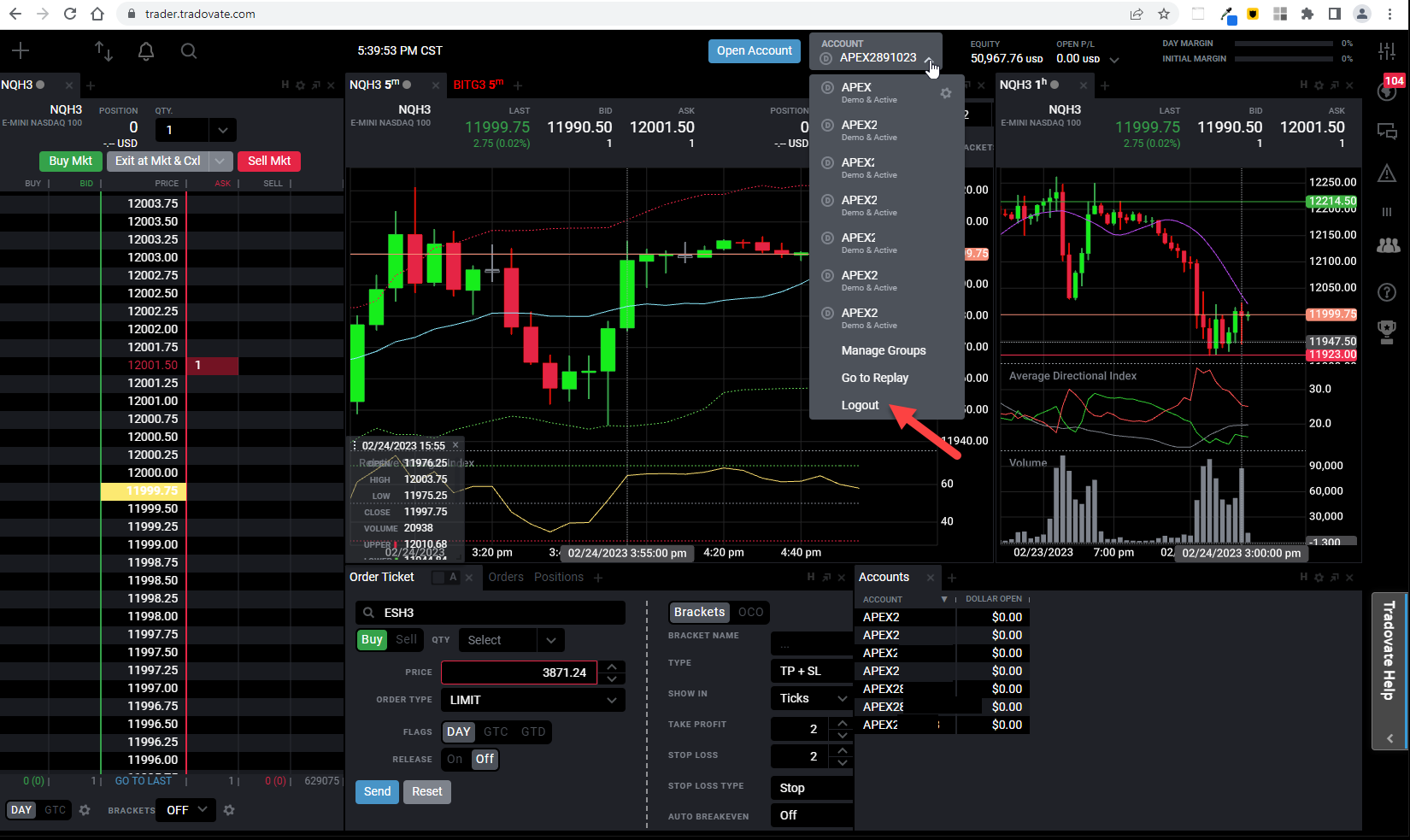 To learn more about the Tradovate platform and how to use it, click on the "Tradovate Help" tab on the bottom right hand corner of the page.
Tradovate also has desktop and mobile versions of their trading platform that can be downloaded from the login page or mobile device store: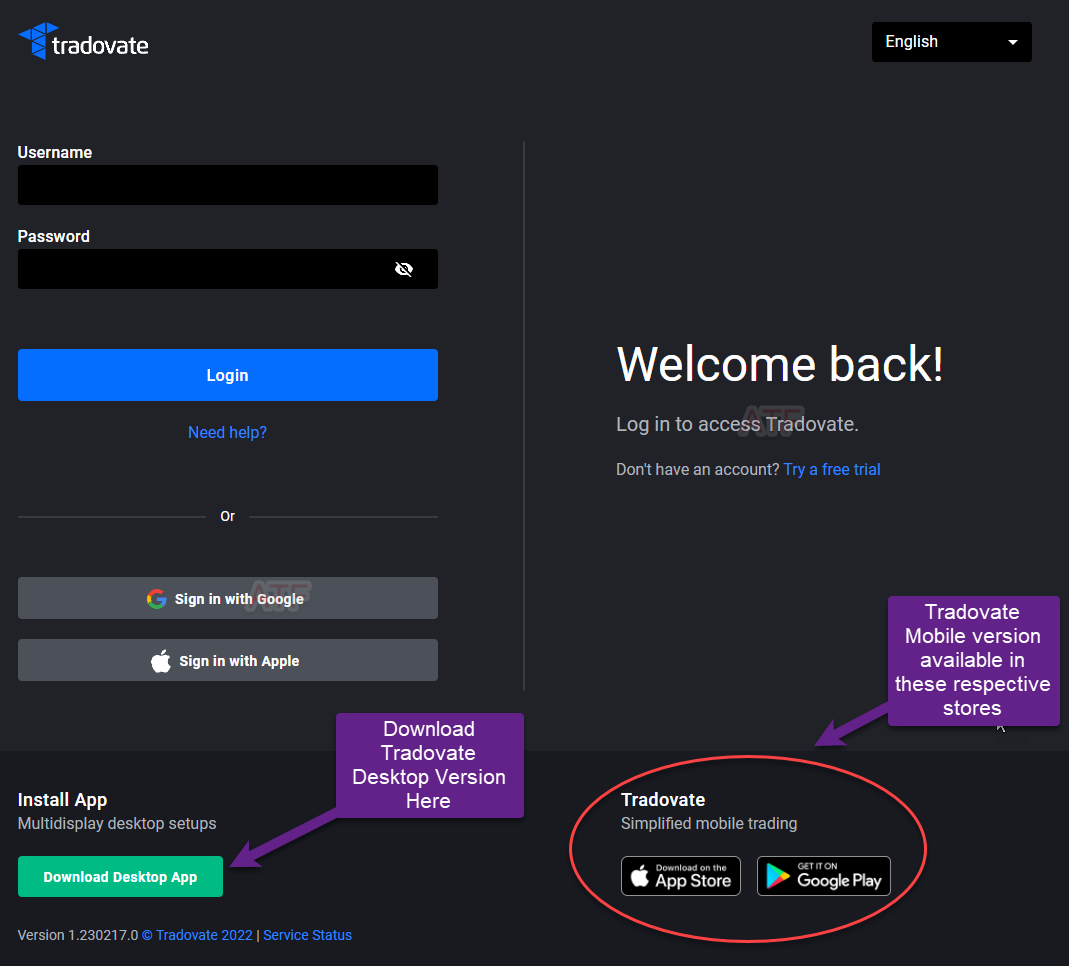 Use the same credentials as mentioned above to login to those applications.
NOTE: Apex Trader Funding DOES NOT provide support for the TRADEOVATE WEB, DESKTOP OR MOBILE PLATFORMS