Connection guide for TradingView using Tradovate
After you have signed up and logged into your Tradovate account https://trader.tradovate.com follow these instructions to activate and login to TradingView.
Make sure that when you login to NinjaTrader/Tradovate for the first time that you select NON-PROFESSIONAL on the Uniform Subscriber Agreement. Otherwise you will not receive real-time data and be charged a $300 per month data fee:
Note: It will to take 10 minutes minimum to 90 minutes maximum for the data to be activated AFTER you sign the data agreements depending on how many users are signing up at the same time. This only applies the first time you signup. We are working on a method to expedite this process but it will take a couple weeks to develop in the meantime there is a wait time. Thank you for your patience with the activation process during this launch. Please do not submit a help desk ticket for data not being live until after 90 minutes of you signing the data agreements has expired.
1. Click on the Tradovate application settings:
2. Click on the Add-Ons tab, then click on the Activate in the TradingView frame:
3. Log out and back into Tradovate for the activation to take affect: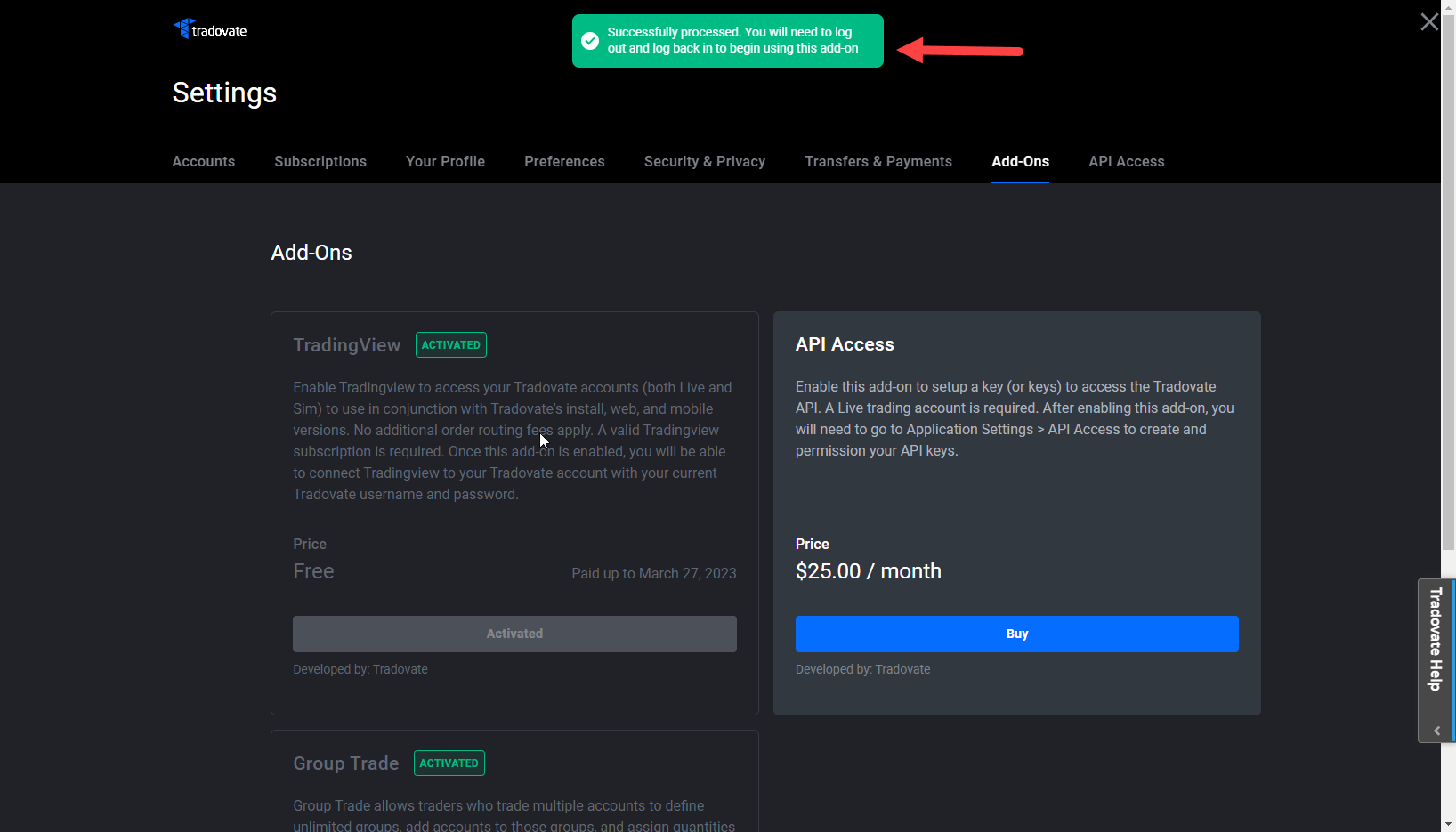 4. Next go to https://www.tradingview.com and signup or login to your TradingView account. Once the charts come up, click on the Trading Panel tab in the lower frame, then click on Tradovate: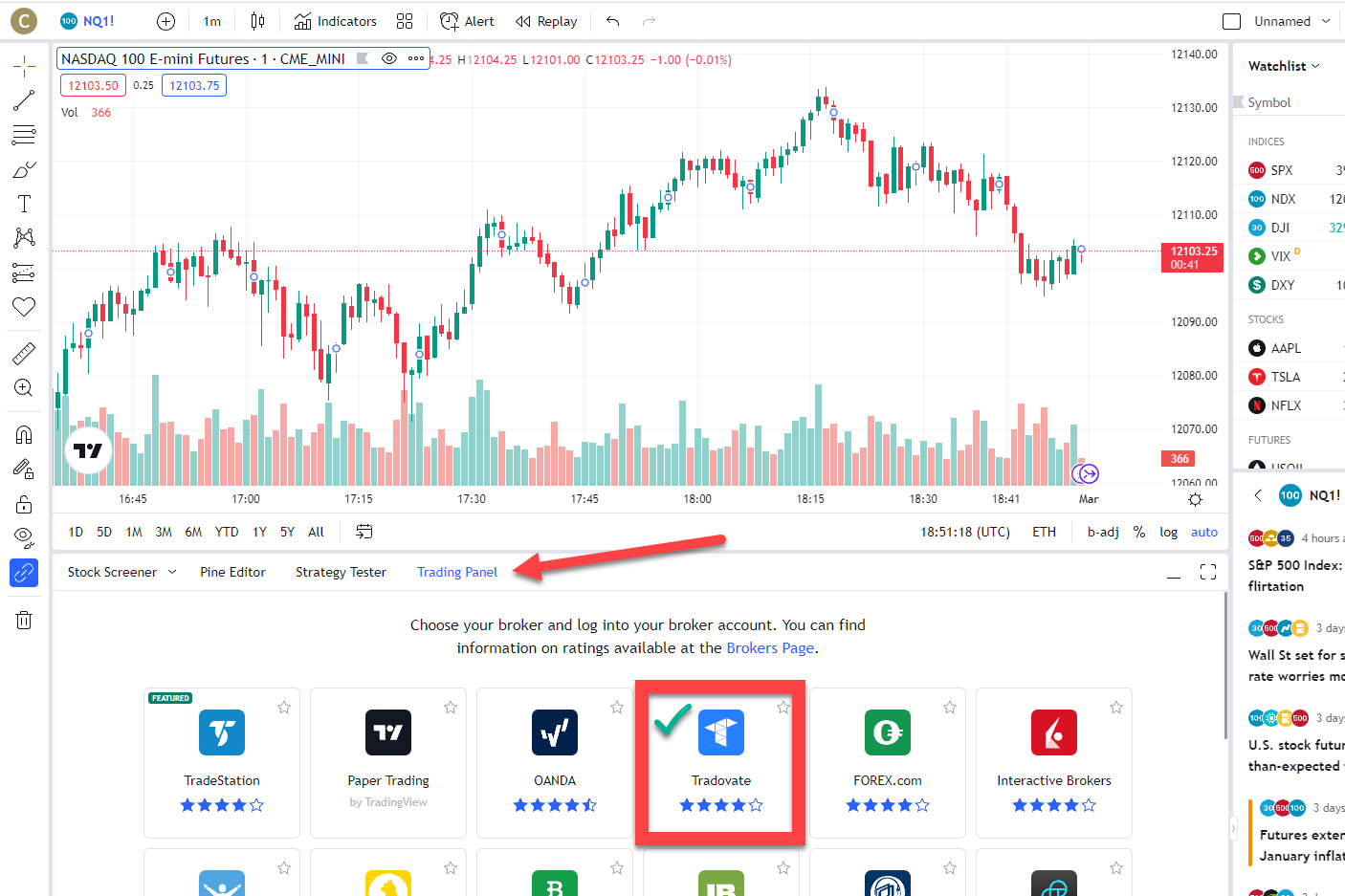 5. Move your mouse over the Tradovate icon and click the connect button: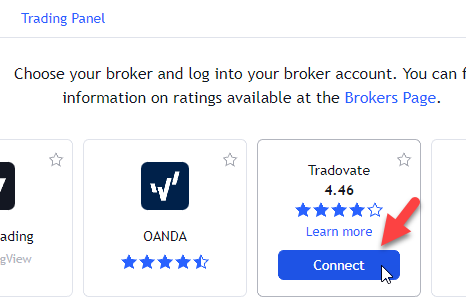 6. Click on the Demo button, then fill in the connection username and password with the Tradovate Username and Password found the Apex Trader Funding Trader Dashboard, then click Connect: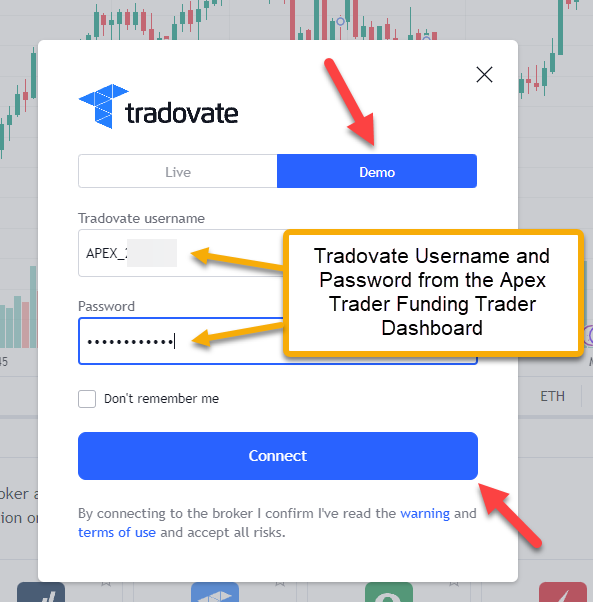 7. Once you click connect, if all of the information has been filled in correctly, you will see something like this in your Trading Panel:
If you see the "Tradovate" icon and see your accounts in the account drop down you have successfully connected to TradingView. For further help setting up charts and indicators in TradingView refer to https://www.tradingview.com/support/