Setup and Connection Guide for NinjaTrader/Tradovate
>>>>>>>>READ ME FIRST<<<<<<<<
Rithmic Accounts CAN NOT be "converted" to Tradovate accounts - DO NOT send in Helpdesk Tickets asking for this to be done. You may trade both Rithmic and Tradovate accounts, but they can not be converted from one to the other. That goes for evaluation and PA accounts. You CAN NOT pass an evaluation using a Rithmic account and then chose to trade the resulting PA account with Tradovate, or vice-versa.
THERE WILL BE >>>> NO REFUNDS OR CREDITS <<<< GIVEN IF YOU RESET THE WRONG TRADOVATE ACCOUNT OR RESET THE SAME TRADOVATE ACCOUNT MULTIPLE TIMES BY "ACCIDENT" (OR ON PURPOSE). MAKE SURE!!!! YOU ARE RESETTING THE ACCOUNT YOU INTEND TO RESET. IF YOU RESET THE WRONG ACCOUNT, IT'S RESET. IT CAN'T BE UNDONE OR CREDITED. THIS IS NOT US BEING "MEAN" OR TRYING TO TAKE ADVANTAGE OF YOU, THIS IS US TELLING YOU TO P A Y A T T E N T I O N TO WHAT ACCOUNT YOU ARE RESETTING. BILLING WORKS DIFFERNTLY BETWEEN TRADOVATE AND RITHMIC.
>>>>>>>>READ ME FIRST<<<<<<<<
NinjaTrader Setup (MANDATORY if you want to trade Tradovate on NinjaTrader, older versions are NOT compatible)
Please note: if you see this dialog box when launching NinjaTrader, you are on an older version.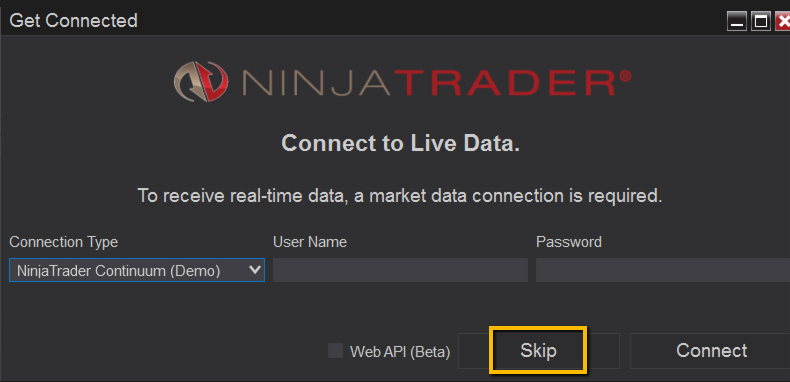 (If you are using this older version 8.0, you will always click Skip, but please uninstall 8.0 and download and install version 8.1 if you see this dialog box. The steps below show how to install the newest version.)
1. Enter your email and choose Sign Up at https://account.ninjatrader.com/register *
(*please make sure you do NOT have any AD blockers/Pop Up blocker on. Try different browsers if still having issues)
2. A screen asking you to confirm your email address will appear
3. Check your email for the confirmation request and select Confirm Email Address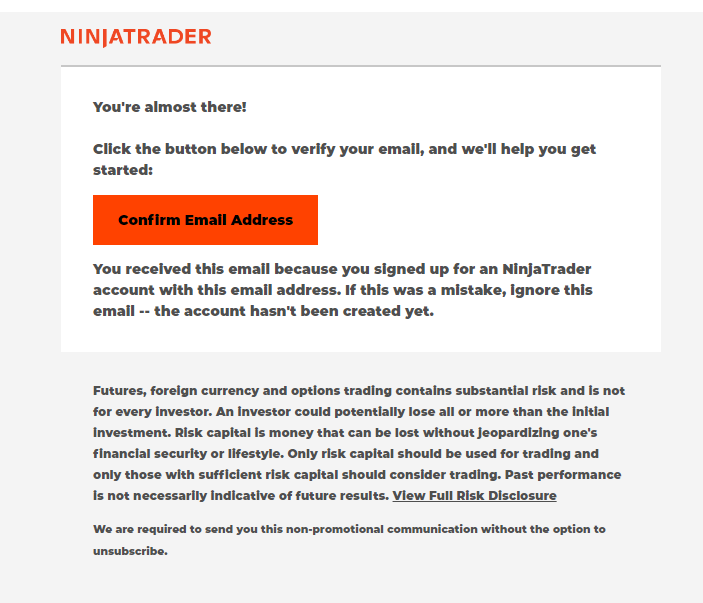 4. Create a Username and Password. Read and agree to the required documents. Click Create User.
5. You'll then be directed to the trading mode page. Open the Additional Options menu by clicking on it and download the Latest Version of Ninjatrader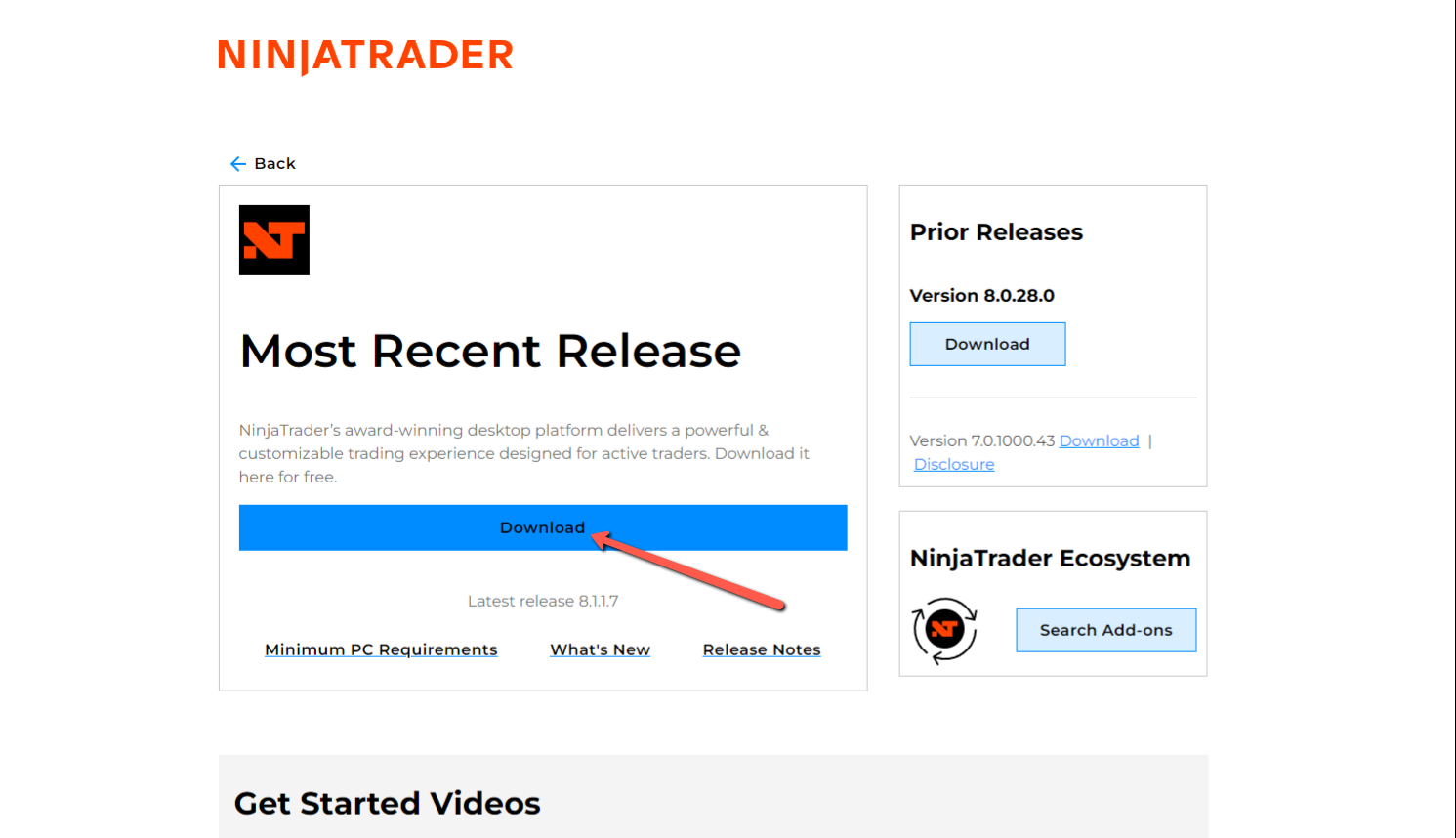 6. Click the back button in the upper left corner, then Import License Key.
Enter the Tradovate license key which you will find in your Apex member dashboard https://apextraderfunding.com/member/content/p/id/2/ or your Tradovate license key which can be found here https://apextraderfunding.com/member/page/tradovatesetup ( enter your your own paid license key if you have one)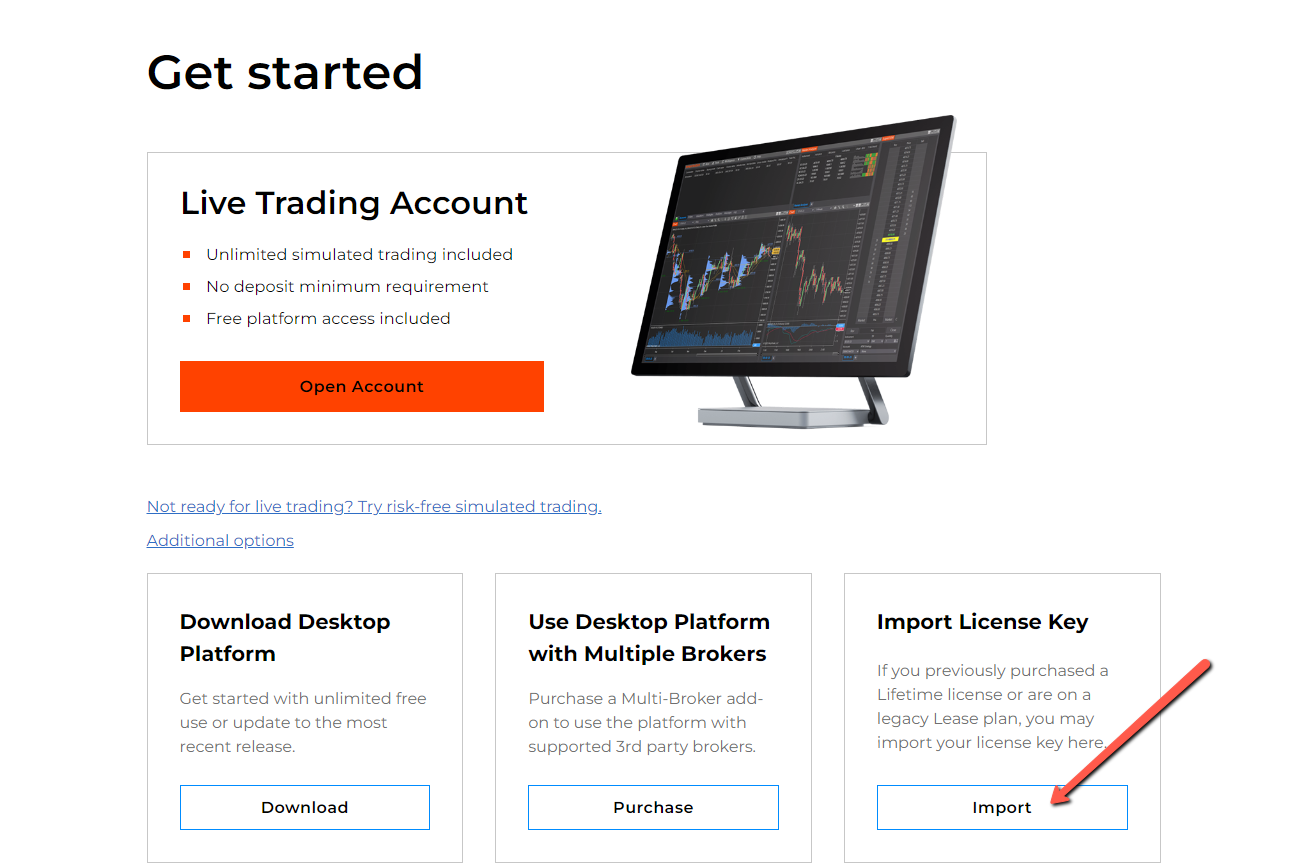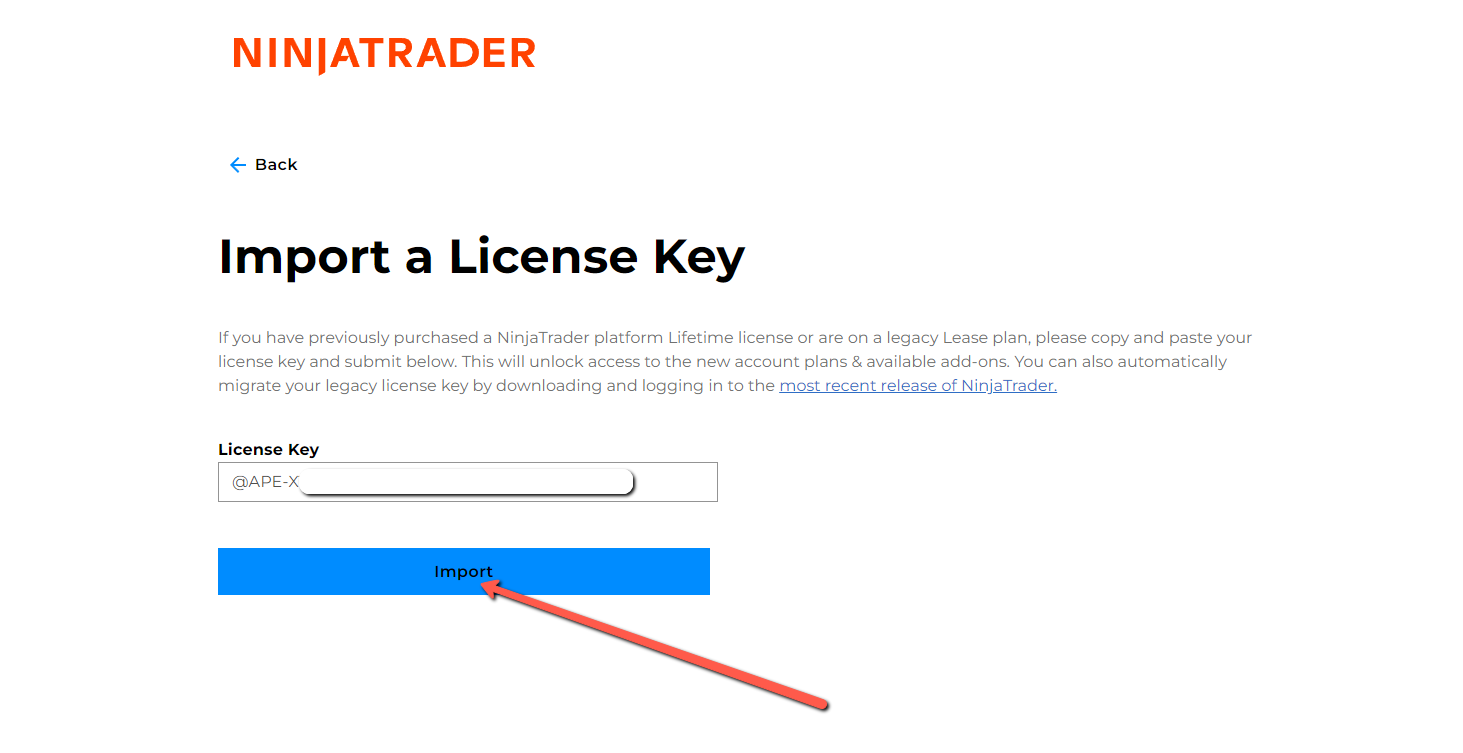 7. Go to this URL: https://trader.tradovate.com and sign in with your Tradovate credentials which you can find here https://apextraderfunding.com/member/member and log in Tradovate
NOTE: Make SURE there are no spaces in your username and password, including at the beginning and end.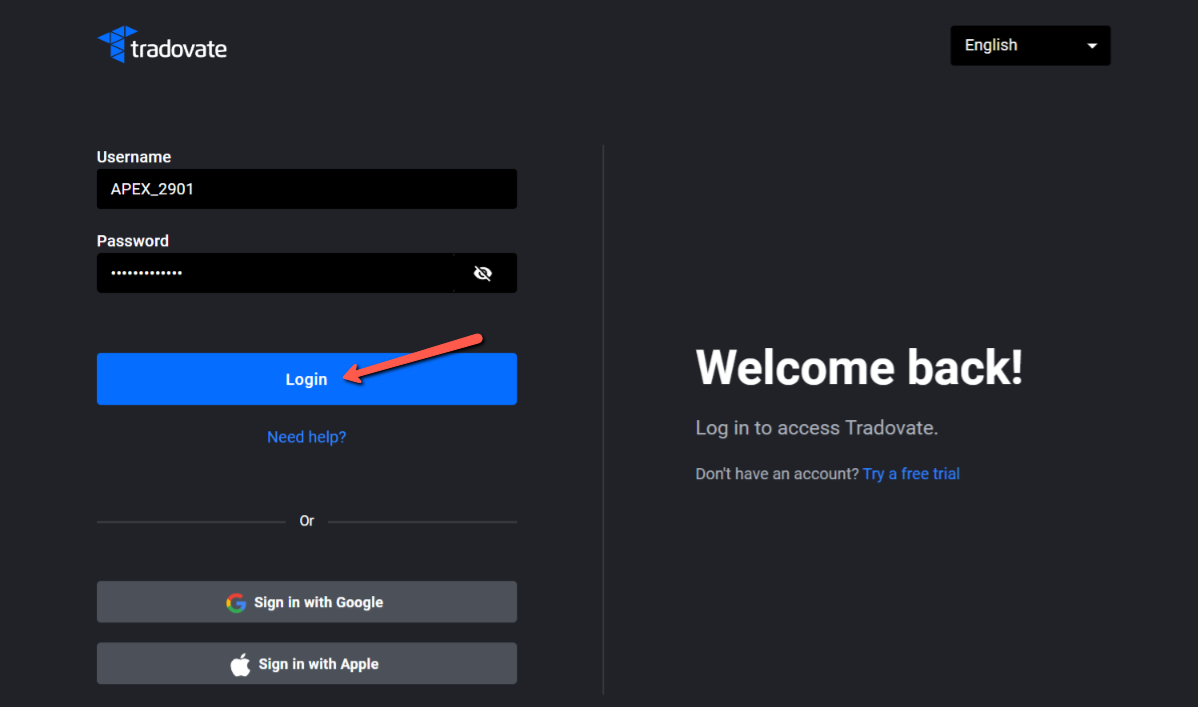 There will be a number of disclaimers and agreements that will need to be signed the first time you login to Tradovate.
Fill out your information and sign the document
>>>> Select NON PROFESSIONAL <<<<
YOU WILL HAVE DELAYED DATA IF YOU DO NOT COMPLETE THIS STEP FIRST AND WILL ALSO BE CHARGED OVER $300 DOLLARS/MONTH FOR DATA.
8. Open Ninja on your desktop and input your NinjaTrader Username and Password you just created, then click Log In. Opening NinjaTrader for the first time will take about 1 to 2 minutes, just sit back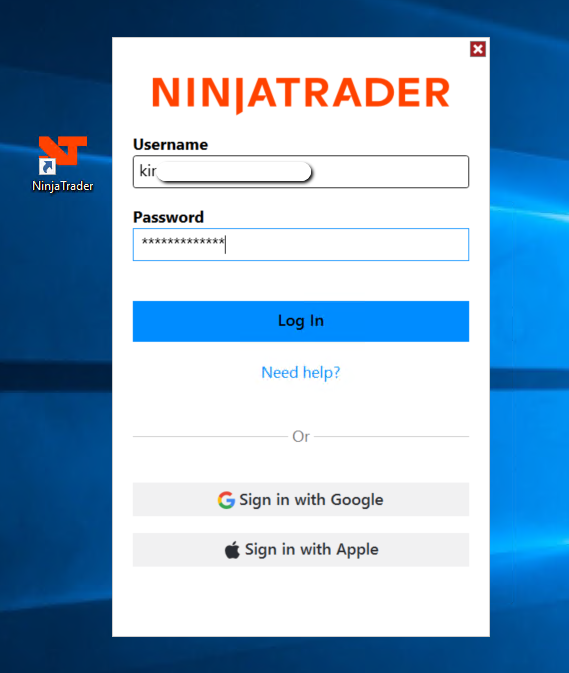 9. Enable Multi-Provider Mode under Tools> Options> General. When enabled, you will have the ability to configure and connect to other providers. Hit Apply and OK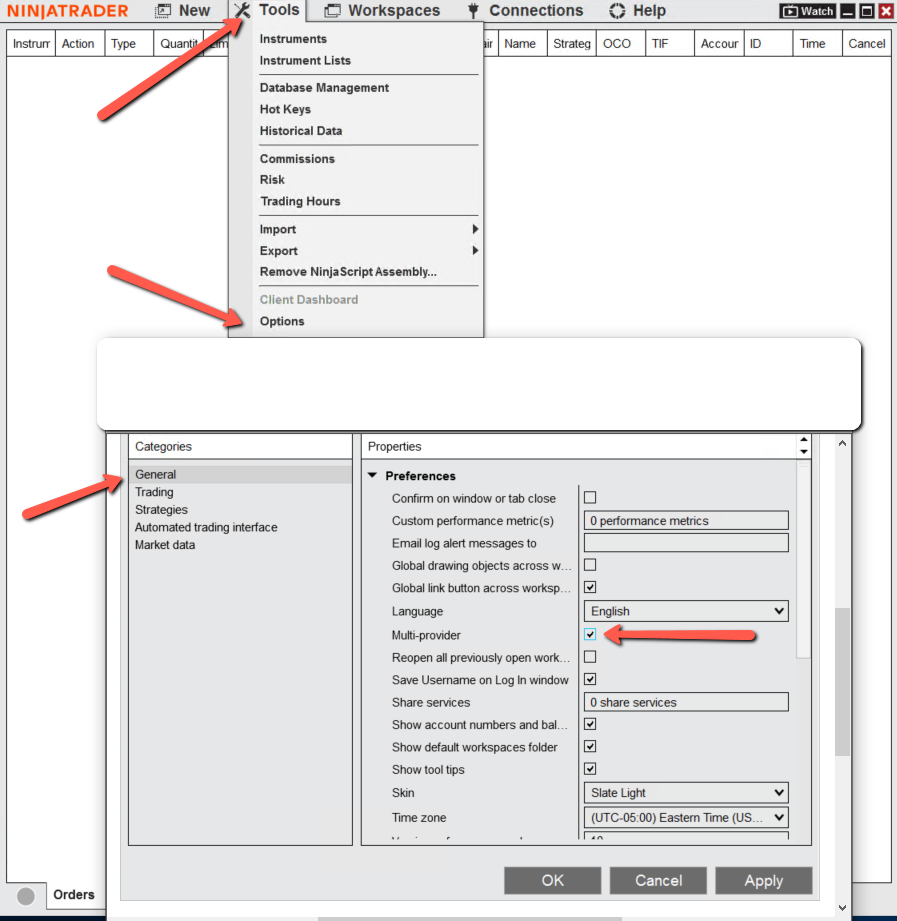 10. Set up your connection(s)
Click on Connections - configure



For your Tradovate connection copy and paste your username and password Apex provided (Tradovate credentials have an underscore, hint hint !!)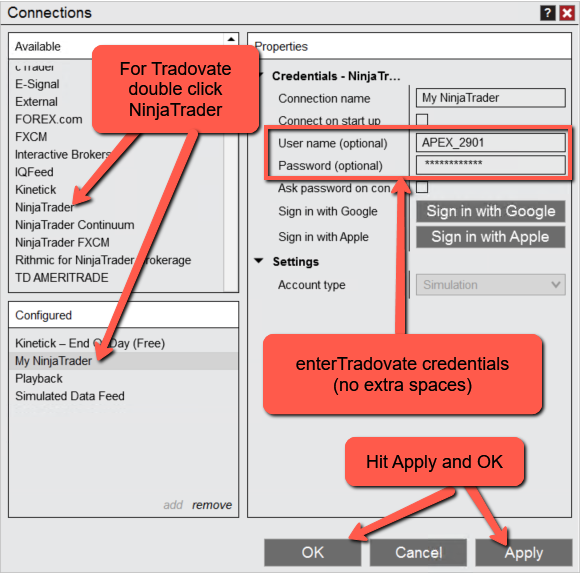 If you have a Rithmic connection, copy and paste your username and password Apex provided (Rithmic credentials have a dash, hint hint !!)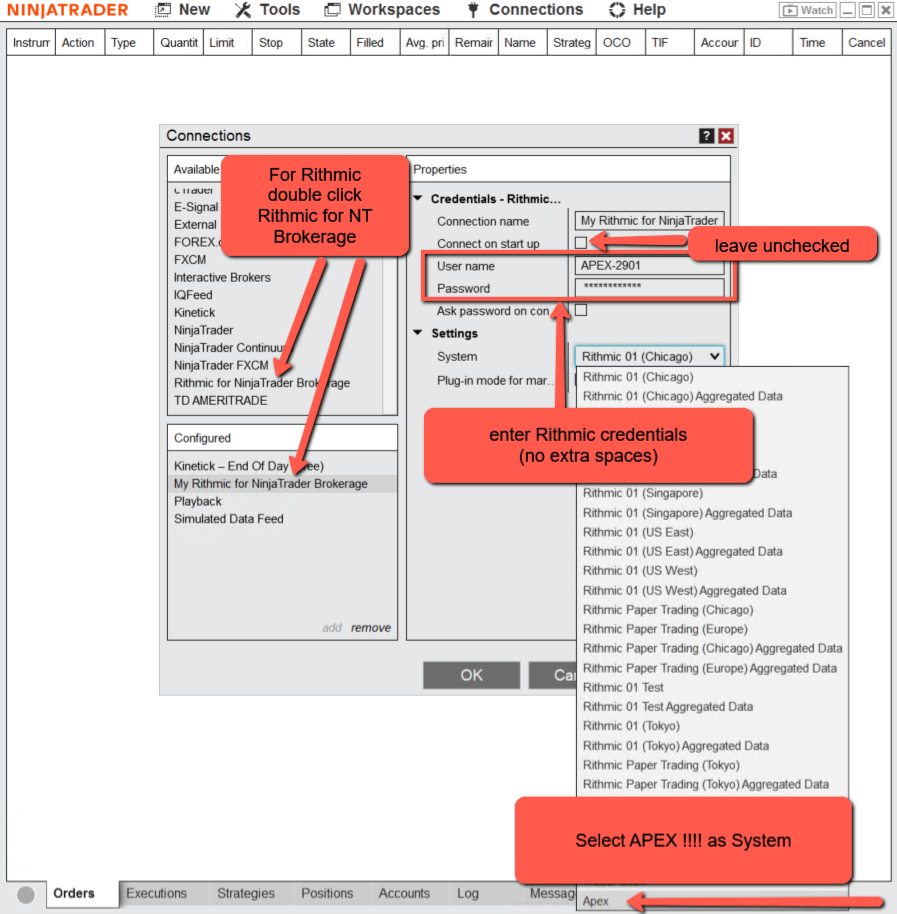 Connect to My NinjaTrader (Tradovate) first, then to Rithmic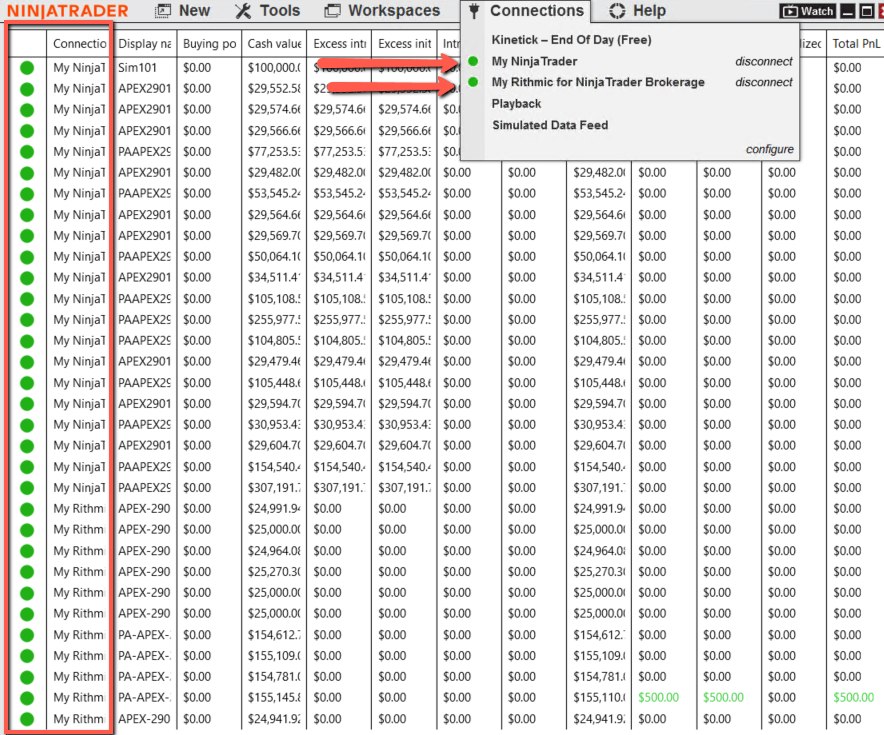 11. Set your Preferred connections to NinjaTrader
In your Ninja Control Center go to tools - options - market data
set preferred connections for historical and real time data to NinjaTrader
Hit apply and ok